7 min read
The Ultimate Guide to Local SEO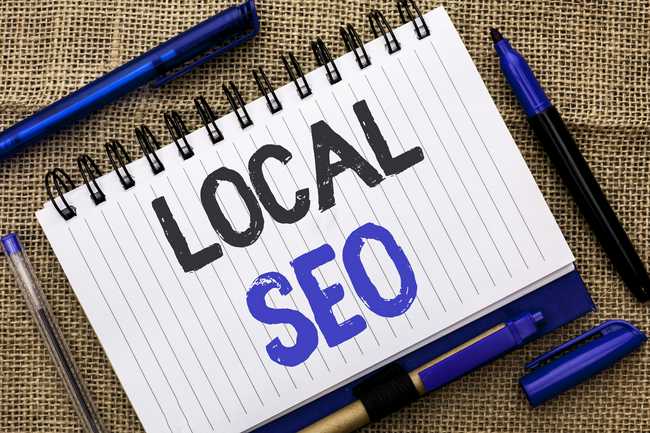 This may come as a surprise, but nearly half of all online searches have "local intent." For small businesses serving a local geographic area, it's crucial to have a website optimized for visibility and ranking in searches that include terms like "near me," "closest," or "local."
By using a local search engine optimization (SEO) strategy, you can reach nearby consumers and boost your ranking. What is "local SEO" exactly, and how can it benefit your business?
Keep reading to find out! By developing a local SEO strategy, you can expand your reach and generate more business. Improve your SEO strategy with this comprehensive guide today!
What is Local SEO?
What exactly is local search engine optimization?
With SEO, you can make sure your website appears on search engines like Google. Each time someone searches for your product or service, your website could appear. Consumers can then visit your website to learn more about your brand.
You can use your content to entertain, engage, and inform. Then, you can encourage consumers to convert with a strong call-to-action. Web visitors can either fill out a form, call you, or make a purchase online.
With local SEO, you can focus your time and attention on nearby customers. Your website will appear in front of local customers.
You can also make sure your Google My Business (GMB) listing appears. Your GMB listing shows consumers your:
Business name
Phone number
Business hours
Customer reviews
Website
Photos and videos
Recent business updates
To develop a local SEO strategy, you'll need to gain a better understanding of your local customers. Then, you can create content with your local audience in mind. With SEO, you can:
Improve your organic search engine ranking
Appear on Google's map for relevant searches
Offer consumers the information they need
Without local SEO, consumers might struggle to find your business. They might not realize you exist.
The Benefits
Why should you bother developing a local SEO strategy? Improving your local search results helps beyond generating website traffic. Here are a few benefits of local search engine optimization to keep in mind.
1. Reach Nearby Customers
Consumers are already searching for your product or service online. With SEO, you can appear in front of these customers while they're in the mood to shop.
With local optimization, you can appear in front of nearby customers. They'll find your business information and visit your store. Then, you can convert those consumers into paying customers.
2. Boost Awareness and Recognition
Remember, people won't choose your business if they don't know who you are. The more often you appear in a search, the more brand awareness you'll build. In time, consumers will start to associate your business with your offerings.
Brand recognition will grow. The next time consumers need your product or service, they'll recall your brand.
3. Generate Website Traffic
You can create content to cover a range of relevant search keywords. When a local customer searches for those keywords, your website will appear. They can then visit your website and recognize your value.
Your Google My Business listing will also display your website. You can generate more website traffic and convert customers online.
4. Become a Credible Resource
What businesses appear on Google when you search for your product or service? Does your company appear on the first page? If not, your target audience is reaching out to your competitors instead.
Companies at the top of the page appear more credible. After all, Google boosts their rankings for a reason. Google sees these businesses as authoritative, informative resources in the industry.
By improving your local SEO strategy, you can boost your ranking and appear ahead of the competition. Consumers will start visiting your website, improving your ranking further. They'll see you have the information and resources they need.
In time, consumers will start to see you as a go-to, credible resource in the industry.
You can further improve your authority by writing with EAT in mind. EAT stands for expertise, authority, and trustworthiness. Google looks for each when determining rankings.
Demonstrate your unique experience and expertise. Prove you're a knowledgeable resource in the industry. Support any claims you make with research and data, too.
As your authority grows, consumers will begin to trust your brand with their needs. Your brand trust and loyalty will grow, too.
Once you develop brand loyalty, you can retain long-time customers, improving your ROI.
5. Get on the Map
About 86% of modern shoppers look up the location of a business on Google Maps. Meanwhile, about 82% of consumers conduct "near me" searches on their phones.
Local search engine optimization can help you get on the map. Better yet, you can reach the 3-Pack.
The 3-Pack includes three local businesses on a Google Map at the top of a search page.
Reaching the 3-Pack can help your business stand out. It can also help build your credibility. Consumers might see you as one of the top businesses in the area.
6. Improve Your ROI
As your local search engine ranking improves, you'll generate more foot and website traffic. You can then boost leads, conversions, and sales.
Meanwhile, you won't have to blow through your marketing budget to generate results. SEO is a cost-effective marketing strategy. You can increase sales and your ROI.
Creating Your Local SEO Strategy
Ready to craft an effective, results-driven local SEO strategy? Here are the tips you need to succeed!
1. Optimize Your Google My Business Listing
First, you'll need to optimize your Google My Business listing. Claim your business if you haven't already. Then, make sure your business information is up-to-date.
Start adding fresh content to your GMB listing, too. For example, you can add high-quality images of your storefront. Photos will help people find your store.
Let people know if your business hours have changed in light of COVID-19. Your GMB listing can provide them with helpful updates. Otherwise, someone might visit your store, realize you're closed, and get frustrated.
2. Update Other Listings
Is your company mentioned on any other online business directories? Update your information. Make sure your contact information is the same across every directory.
For example, your website might appear on Yelp. Look for online directories that are specific to your industry, too.
Consumers use these directories to find your business. If the information is inaccurate, you could lose a lead. These links can also work as link building citations.
Link building is an essential component of your SEO strategy. Generating backlinks (links from other websites) can boost your ranking. Google will see other websites are mentioning your business and push your ranking higher.
3. Acquire Positive Reviews
About 95% of consumers read reviews before making a purchase. Reviews work as a form of social proof. You can show on-the-fence customers that people already know and love your brand.
Google also uses reviews to determine your credibility. Generating five-star reviews can help improve your online reputation. Your ranking will improve, helping you reach more customers.
Start by learning how to ask your customers for reviews in person. The next time they rave about your service, ask them to post a review online. Start directing customers to your GMB listing to share their thoughts.
You can also ask for reviews in text messages or emails. Create a dedicated testimonials page on your website. Start sharing the reviews you receive on social media, too.
As you start generating reviews, make sure to comment back. Let people know you're listening.
Don't delete their negative reviews. Instead, respond and let people know you understand their concerns. Then, make an effort to meet the customer's expectations.
You can also use online tools to manage your reviews.
4. Make Sure You're Mobile
About 90% of consumers use mobile when working toward a goal on the go. Meanwhile, 82% check their phones while they're in a store.
If your website isn't mobile-optimized, you could miss a chance to convert these leads.
Google uses mobile-first indexing when organizing local search results. If you want to improve your ranking, make sure you're optimized.
Mobile users can find your website and convert from their phones. For example, they can fill out a form or call you directly.
5. Create Location-Based Content
Use keyword research to determine what your local customers search for on Google. Then, create content that responds to their questions. Provide your local customers with the information they need.
As you create your posts, make sure to add location-based keywords, such as your city. You can also add your:
Business name
Address
Store hours
Phone number
Unique store description
Photo of the location
Customer testimonials
Specials and promotions for that location
FAQ
Create a dedicated landing page for each of your locations to attract local customers.
Start experimenting with different forms of content, too. For example, you can create a dedicated social media marketing strategy for each location. Post photos, videos, and other forms of content to engage local customers.
Love Your Local Customers: Your Guide to Results-Driven Local SEO
To recap, what is local SEO? It's your chance to reach and attract nearby customers! With an SEO strategy, you can boost your online ranking and generate more business.
Need help attracting more customers? Want to boost your online visibility this year? We have the digital marketing solutions you need.
Contact us today for a free strategy session!